Powered Pallet Truck and Powered Stacker
One of the various essential tools in material handling is a powered pallet truck. The powered pallet truck, powered by batteries, allows for easier lifting and movement of heavy pallets. A pallet truck Singapore is a wheeled trolley used to lift and transport pallets. The truck's tapered forks fit beneath the pallet, and the pump handle is used to raise and lower the load.
The power pallet truck lineup includes pedestrian, platform, stand-on, and sit-on models, providing a wide range of options. These electric power pallet trucks require less maintenance and consume less energy than trucks with traditional DC motors. They are built with advanced AC motors that provide excellent traction and ramp performance even when loaded.
Advantages of power pallet trucks:
The tiller heads on the 'pedestrian' and 'platform' power pallet trucks are cleverly designed, with precise and intuitive controls that connect the operator almost seamlessly to the pallet truck and pallet load.
The power pallet trucks have a smooth, controllable feel, which improves the operator's and other staff's safety while preventing accidental damage to the forks, loads, and racking.
Control consoles for accurate handling are integrated into ergonomic operator compartments that are also comfortable and simple in stand-on/sit-on electric power truck models.
Each electric power pallet truck provides advantages that will enhance your warehousing operations by increasing efficiency and saving you time and money.
The power pallet trucks can be configured to meet your application requirements using the programmable electronic controller and built-in diagnostics monitor functions to maximize uptime. Furthermore, their efficient regenerative braking reduces brake wear and maintenance.
Externally, the smooth contours of the electric power pallet trucks are fashionable, functional, and durable. It allows easy access to all components and reduces necessary maintenance time. Power pallets can meet the challenges of a wide range of day-to-day loading bay and shuttle applications, with cold storage modifications available on most models.
Pallet trucks are frequently seen in warehouses, stockrooms, and other environments where wooden pallets are used. There are numerous types of pallet trucks available to meet a wide range of needs, including:
Pallet Trucks with a High Lift
Small Pallet Trucks
The new BT TYRO SHE100 stacker model is ideal for light stacking applications. It is capable of transporting and lifting loads weighing up to 1,000kg. For ease of use and energy efficiency, the SHE100 is available with Li-ion technology. It combines the benefits of a powered stacker truck with the portability of a manual stacker.
Pallet Trucks for Rough Terrain
Pallet Trucks with a Low Profile
Pallet Trucks Powered by Electricity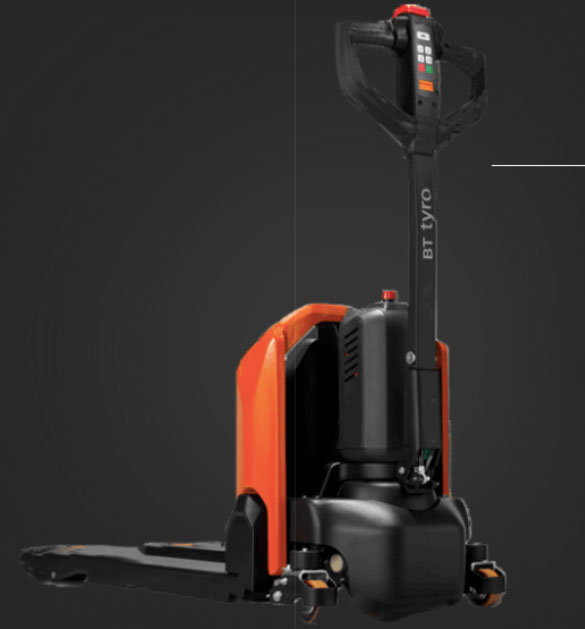 The BT Tyro LHE150 powered pallet truck is adaptable and easy to use. The BT Tyro LHE150, with a service weight of only 123kgs and a total length of only 1,530mm, is ideal for use in small confined areas such as offices, retail stores, containers, or even onboard lorries.
BT Walkie Electric Powered Pallet Truck
The Toyota Levio Pedestrian Electric Powered Pallet Truck Range is designed for intensive operations in fast-paced environments. It is responsive and maneuverable. It is ideal for use where space is limited and travel distances are short. BT Powerdrive, AC Drive Motors, Pin Code Access, and various safety features are included.
BT Platform Electric Powered Pallet Truck
The Toyota Levio Electric Pallet Truck with Platform is ideal for high-performance dock loading/cross-docking/horizontal transportation applications. It is a quick, sturdy, and strong electric pallet jack. It is equipped with BT PowerDrive, a Toyota BT Patent, Pin Code access, and many safety features.
BT Electric Powered Stackers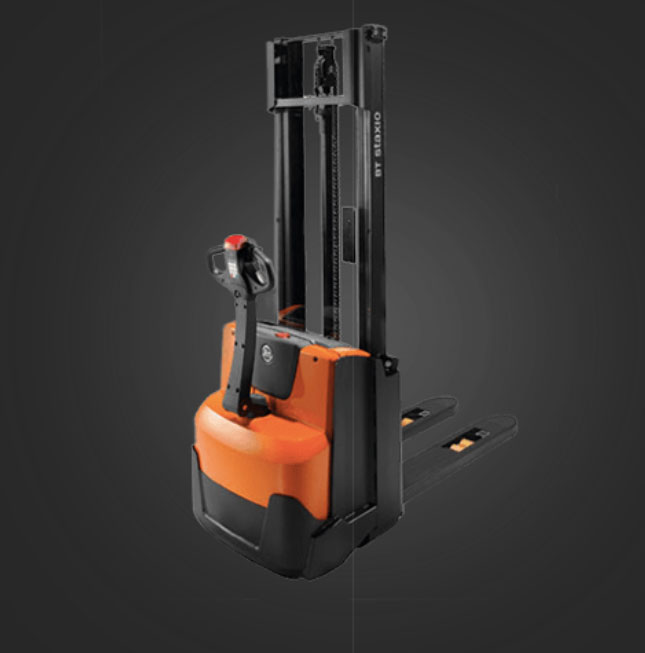 The Toyota BT Staxio SWE Series Walkie Stacker is ideal for environments requiring light stacking and many pallet types, such as shops, warehouses, and other retail locations. The SWE series is very versatile and easy to maneuver, and it includes BT PowerDrive, Pin Code Access, and a variety of safety features.
BT Electric Powered Reach-Stackers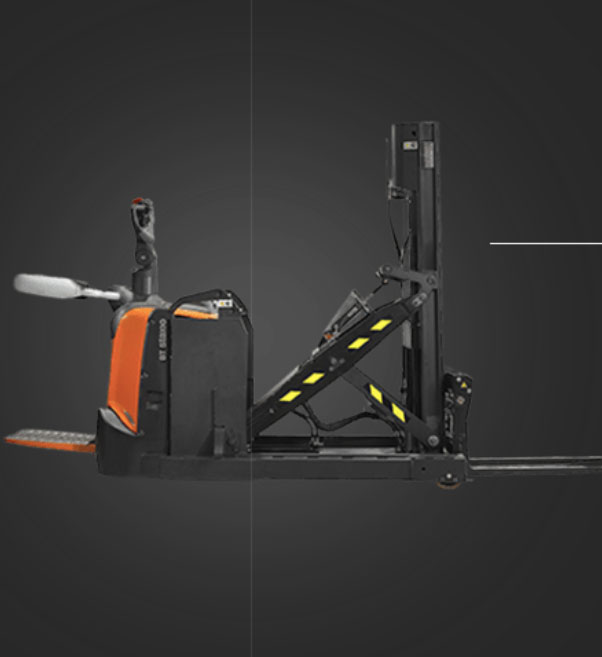 The Toyota BT SPE120XR Reach Stacker is ideal for large warehouses that use a variety of pallet types. It is suitable for open and closed pallets and provides a unique and modern application to many business sectors. BT PowerDrive, Pincode Access, and various safety features are included.
Pallet Trucks that are Extra-Long/Extra-Wide

Pallet Trucks with Weighing Scales Built-In

Galvanized Pallet Trucks

BT Hand Pallet Trucks
Toyota BT Hand Pallet Jack
How to Operate a Pallet Truck
Pallet trucks are intended for use with standard wooden pallets.
To move a load with a pallet truck, you must first place it on a pallet and secure it with appropriate load restraint products.
Once your load has been restrained, you can manoeuvre your pallet truck into position by sliding the forks into the gaps provided. Then, using the truck's pump-action handle, raise the pallet off the ground.
Pallet pump trucks make it simple to move loads around your facility while removing many of the risks associated with heavy lifting. Remember that if you need to move pallets across rough terrain, special all-terrain powered pallet trucks are available. You can engage such a forklift Singapore and powered pallet from a pallet truck company in Singapore.
The Toyota BT Hand Pallet Jack is a universal hand pallet truck used to move loads in many applications. Lifting Capacity: 2,300kg. It is available in stainless steel and has a three-ton capacity. The pump and handles are covered by a two-year warranty.